Partner in car transport - no way too far!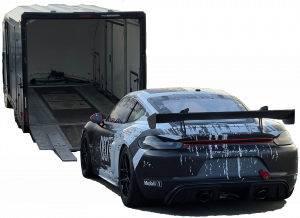 In us you will find a reliable partner for your vehicle transportation. Whether near or far – no distance is too far for us. We bring your vehicle to any place in the world or pick it up there. This is possible due to our integration in an international forwarding agency with a global cooperation network. Reliability, safety and adherence to delivery dates guaranteed!
Whether transportation by ship, road, rail or air – it's no problem for us. If required, we combine different means of transport in the way that is best from the perspective of cost, time and logistics. For us, the most important thing is to get your vehicle safely to where you want it. If required, a driver will bring the car directly to your front door, to the airport or to any other place you wish – ready to board and drive immediately!
Especially for vehicle transportation across borders, seas and continents, you have come to the right place. We have many years of experience in global vehicle transportation. We offer more than transportation. We also take care of the complete administrative handling including all necessary documents as well as customs clearance. In addition, we offer you a whole range of interesting additional services in connection with vehicle imports!
You need a competent vehicle transport with extra service? We will be happy to advise you and make you a convincing offer!
Purchase assistance
Support in the search as well as purchase price negotiation & settlement.
Storage
Your safe, clean and alarm-protected place for your vehicle in Germany,
Transport
Best possible transport handling by sea or air freight to the final destination.
car detailing
Taking care that your vehicle is always in best condition and presented in TOP appearance.
Administration
Outsourcing your complete management of just one vehicle or your whole fleet.
Sales assistance
Ensure your vehicle is properly represented on the market and sold at an attractive price.
GET IN CONTACT WITH US TODAY
Let us now how we can assist you!